Part one of a Q&A with John Devlin, the man responsible for the wonderful True Colours Football Kits books and web site.

How did True Colours start?

Getting the books published has been the fulfillment of a lifelong ambition. It all started when I was a young boy about 8 or 9 with an unhealthy obsession with football kits. I spent all available time drawing and documenting kit designs with felt tip pens on the backs of cereal packets! I guess the excitement came from the array of colours, seeing teams in unfamiliar away kits but also that period when new kit designs were worn at the start of the season. This was back when most teams didn't change their kit every season and a new outfit was more of an 'event'. This period also coincided with sponsorship (which made my felt tip versions harder to produce!). I retained my love of football kits from then on and have amassed a huge collection of research material relating to football strips over the years.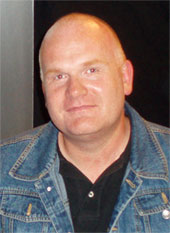 Years later as a mature student I returned to college to study graphic design and needed to find out how to use the computer software used in graphic design. So I thought a good exercise was to resurrect my old hobby and start learning the software by drawing kits. In the final year of my course I decided to produce an in-depth exploration of contemporary kit design (examining psychology, fashion, design, colour theory, the tribal aspect behind replica shirts, branding etc) and that's when the project really gathered pace and allowed me to produce professional quality illustrations. Every year I scoured the bookshelves just waiting for a book on football kit history but none appeared. It then dawned on me that it was just going to have to be me that produced it. As well as researching, illustrating and writing the book I also designed it and even typeset it.

What process do you have to go through to get permission?

I had to obtain permissions from every club, kit manufacturer and sponsor featured in my book for intellectual property purposes. This took me two years and I now have several thick files full of permissions. It was important to make sure that no intellectual property rules were broken before publication. I generally phoned every company , introduced myself and my work and then followed that up with a letter or email. Most companies were very glad to grant permission as were the sportswear companies although some wanted copy sign-off before publishing. The vast majority of clubs were very supportive although some did take some persuading! Another issue was trying to track down the current owners of old trademarks that belong to companies who have since gone out of business or the brand name has changed hands. Breweries were particularly complex. The whole permission process took me two years to complete.

Funnily enough, the very first phone call I made was to a film distribution company called Redbus who used to sponsor Charlton. Unfortunately the company turned me down flat – just said no! I was devasted as you could imagine and thought my football kit book dream would never happen. Unbeknown to me Redbus had a big falling out with Charlton which involved the early termination of the sponsorship deal. THAT was why they didn't want to grant approval! I plugged on though and fortunately that was one of only two sponsorship refusals I received.

Can you pick a favourite from all the kits you've done (maybe one you wear on a regular basis!)? And a manufacturer?

I get asked this question a lot and my answer is constantly changing. I would say though my number one is the Scotland 88-91 home kit (such a classy looking outfit amidst all the glare and patterns of the late 80s/early 90s). See it here.

Recently though my favourite has to be the new England shirt. I know its divided opinion (but the best kits often do!) but I think its a work of genius. A really brave move from Umbro who have raised the bar now in terms of what contemporary kit design can be.

My favourite manufacturers would be Umbro and Nike I think. Umbro just due to the sheer impact the company have had on the football kit world – especially in the period I focus on (1980 onwards) and their wonderful heritage. Nike I think just make classy, simple designs but seem to have a lot of thought behind them as opposed to just plastering a kit with flashes of colour.

Coming soon in part two of the Q&A – John's footballing memories and passion for Scotland, and we learn the reason why the Owls don't feature in his books. A visit to his web site is an absolute must – http://www.truecoloursfootballkits.com – and check out John's excellent graphics on the display of Wednesday kits here